The global health crisis highlighted the importance of having several sources of income. A lot of people lost their jobs after many businesses closed when the pandemic started. They had to dip into their savings to have a source of funds while looking for another job.
Aside from their main profession, people should look for a way to earn passive income since it gives them another revenue source without focusing on the work. These passive income sources require some effort to start, but after setting it up, all a person needs to do is to monitor it and make adjustments along the way. Here's how you can earn passive income online and offline.
Investing in Stocks
Investing in the stock market might have no guarantees, but it also gives people the opportunity to earn a lot if the shares they invested in start to appreciate. Some shares even allow investors to earn dividends when the company accumulates retained earnings and generates profit.
In these instances, investors should think long-term rather than buying and selling stocks in a short period. They should also invest money that they do not immediately need. While investing in the stock can be risky, it also offers many rewards for people who are thinking about letting their money earn while they are sleeping.
Set Up a Print-On-Demand Store
People who have a creative side can set up a print-on-demand (POD) store. These online stores allow them to earn passive income from their designs. In this e-commerce model, people upload their designs to a website. And the website prints t-shirts, mugs, and backpacks using the design in case someone orders.
The business model is similar to drop shipping since people do not need to maintain a stock of the items they sell. Instead, the website that prints the items receive the order and ships it directly to the customer.
Some websites, such as Printify and Printful, only provide the fulfillment part of the business. This means they take care of the printing aspect of the business. They link these services to the website of the POD store owner. And the store owner takes care of marketing the products.
On the other hand, websites like Redbubble can print and sell the products of the POD store owner. In this situation, the POD store owner licenses the designs that are printed on different items. The websites sell the items directly to the customers.
Become a Social Media Influencer
A social media influencer can make a lot of money by posting content on his social media account. This is a good way to earn passive income if a person has many followers on his account. These influencers can influence the buying decisions of people who follow them. Some social media influencers can earn millions of dollars for every post they make on their Instagram account.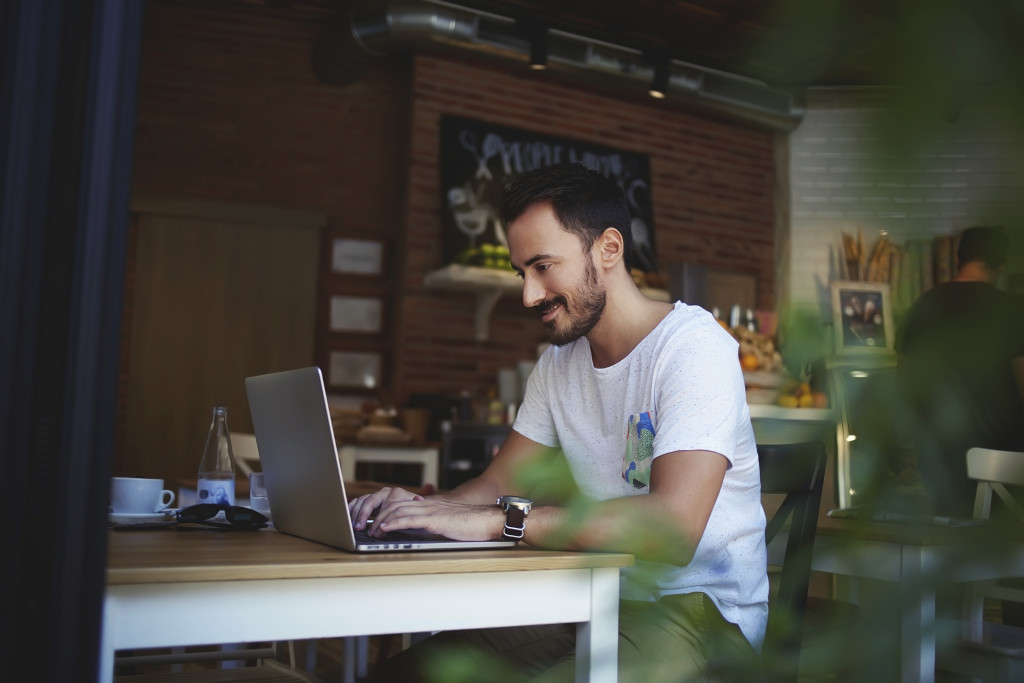 Aside from Instagram, they can also use other social media platforms. Aside from posting content, they have several ways to monetize a Facebook Page. They can sell subscriptions or online courses. They can also sell digital content. They can even sell the POD shirts and other items through their social media page.
Even as the passive income earning potential is high, it also takes a lot of effort to become a social media influencer. They also have to be consistent when they post content on their social media accounts. It can take some time before they finally earn a substantial amount as social media influencers.
Offer Rental Property
The pandemic saw US home sales go up as people took advantage of the lower interest rates offered by the US Federal Reserve. While many homebuyers lived in their newly-purchased homes, some offered their homes in the rental property marketplace.
Investing in rental property allows a person to earn passive income, especially if he gets a property management company to maintain, repair, and promote the home in the market. These companies have the resources and knowledge to take care of the properties they manage. They also conduct background checks on potential tenants to reduce issues once the tenant starts renting the property.
If a person has more than one home for rent, he'll earn a higher monthly rental income. They can even buy a house through a loan and use the rental income to pay off the loan and earn a minimal amount every month. But they have to make sure they earn enough rental income to pay off their loan.