To be honest, we all have that one fashionista (or several) who dresses to the nines for every occasion. They're the type of friend that always understands what's in style—and how to pull off even the most outrageous looks without seeming completely insane. Every fashionista understands the significance of putting together the ideal outfit.
Your most fashionable pal deserves the prettiest fashion-lover presents the retail world has to offer this holiday season. It's reasonable to assume that the year 2020 had a significant impact on our fashion choices. But don't worry. This article has got you covered with fashion-forward gift ideas, whether you know your friend's style like the back of your hand or want to surprise them with something they wouldn't anticipate.
Here is a compiled list of gift ideas that will not only entice your friend but compel you to spruce up your wardrobe.
1. A Mask That Goes With Every Outfit
Denim is a timeless fashion trend that will never go out of style, no matter the season. Denim can take your fashion game to the next level in various ways, from classic designs to the most current trends.
As we continue to replace our favorite accessories with attractive facial coverings, a denim face mask is a perfect present to offer this year. Not only does it look stylish, but it also goes with every dress you wear.
2. A Stylish Scarf
Scarves make excellent gifts since they endure a long time. Scarves are kept and worn for many years by those who own them. Many women believe that wearing a scarf makes them appear more put-together. Therefore, they strive to make it a permanent part of their wardrobe.
Fashionistas will appreciate being able to wear a high-end fashion scarf, shawl, or wrap. Scarfs are a versatile wardrobe element that can readily modify any outfit. So explore the latest range of scarves and gift the best one to your fashionista friend.
3. Jewelry That Never Gets Old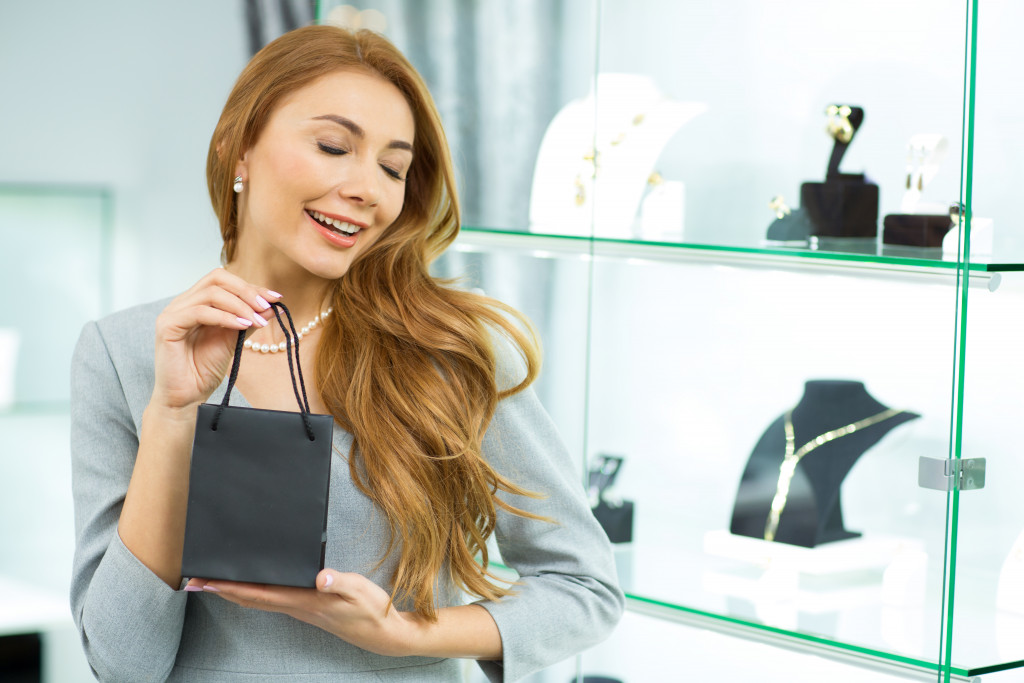 From gold earrings to a silver necklace, you can get a cute little piece of jewelry for your friends to make their day even more special.
You can also buy customized jewelry like an initial necklace, earrings, ring, or bracelet. This will make a great addition to any jewelry collection.
4. Customized Belt Buckles
Customized belt buckles combine the personal touch of a handcrafted present with the long-term durability of having your design cast in metal.
It is a good feeling to know that you purchased your friend a belt buckle that will look the same in hundreds of years as it does now. The permanency of having something actually "cast in stone" or, at the very least, metal communicates that the present was made with great care and respect for the receiver.
Having their name, initials, or nickname engraved on a belt buckle adds to the uniqueness of the gift.
5. Designer Sunglasses With a Tint
According to fashionistas, colorful glasses are a significant trend right now. A pair of high-end sunglasses will make your friend feel unique and adored. Undoubtedly, your best friend will want to wear them all year.
One of the most appealing aspects of giving designer sunglasses from Perfect Glasses is that they are a beautiful present that does not come with a hefty price tag.
So this Christmas, ditch the safe present alternatives and surprise your loved one with a pair of designer sunglasses from the comfort of your own home.
6. An Oversized Sweatshirt
Fashionistas, celebrities, and designers have embraced the chunky sweater trend, so now they no longer have to choose between comfort and style.
A decent sweatshirt is the cornerstone of any fashionista's collection. Get your friend a comfy sweatshirt that is perfect for mixing and matching with all of their favorite outfits. It will also keep them warm throughout the season.
7. Perfumes That Evoke Emotions
A distinctive smell is just as essential as a decent pair of shoes or jewelry in today's world. To put it another way, scents are no longer unique or infrequently used things. Instead, they've become inseparable from the fashion world.
Perfumes are also an emotional gift. Giving someone perfumes is a thoughtful and kind gesture. It's also something they'll remember you by wearing. Giving someone a perfume is, therefore, a statement of devotion.
All you have to do is keep an eye on what your fashionable friends are wearing and keep the trend alive with your Christmas presents. Of course, choosing the ideal present for a fashionista is a lot easier said than done. But after reading this blog post, you'll find seven trendy gift ideas that every trendsetter will enjoy.