A huge number of companies have gone digital due to the effects of the pandemic. However, some businesses still maintain brick-and-mortar offices, as they continue to provide their customers in-person services, along with digital transactions.
As such, having an attractive physical location is just as important as having an eye-catching, easy-to-navigate website. As more people use navigation tools to help them find specific locations, it would help to provide landmarks near your location and identifying marks for your storefront to make it much easier to locate you. While you're at it, it's best to make it look polished and appealing for that added wow factor. After all, first impressions last.
Here are some ways to create a beautiful and attractive storefront that will certainly boost its street appeal and make it the best-looking one in your lane.
Bring in the Greens
No matter how small the available space out front is, landscaping can bring a tremendous improvement in the way your outdoor area looks. How beautiful and well-polished your storefront looks can significantly impact your ability to attract customers and keep them coming back.
If your outdoor area looks bare or has unkempt shrubs and trees, landscaping your commercial area will do the trick. Commercial landscapers can provide you with services that fit your budget, as well as cost-effective maintenance services throughout the year. This will keep your storefront looking its best, no matter what the season is.
A touch of nature goes a long way and is an upgrade that will improve the aesthetic appeal of your business. It also makes a great and lasting first impression with your customers: new ones and long-term ones. Not only will commercial landscaping boost your business's curb appeal, but it will also weave sustainable practices in your business, which can attract more customers in the process. A beautiful and well-maintained facade will surely delight customers, your employees, and yourself included.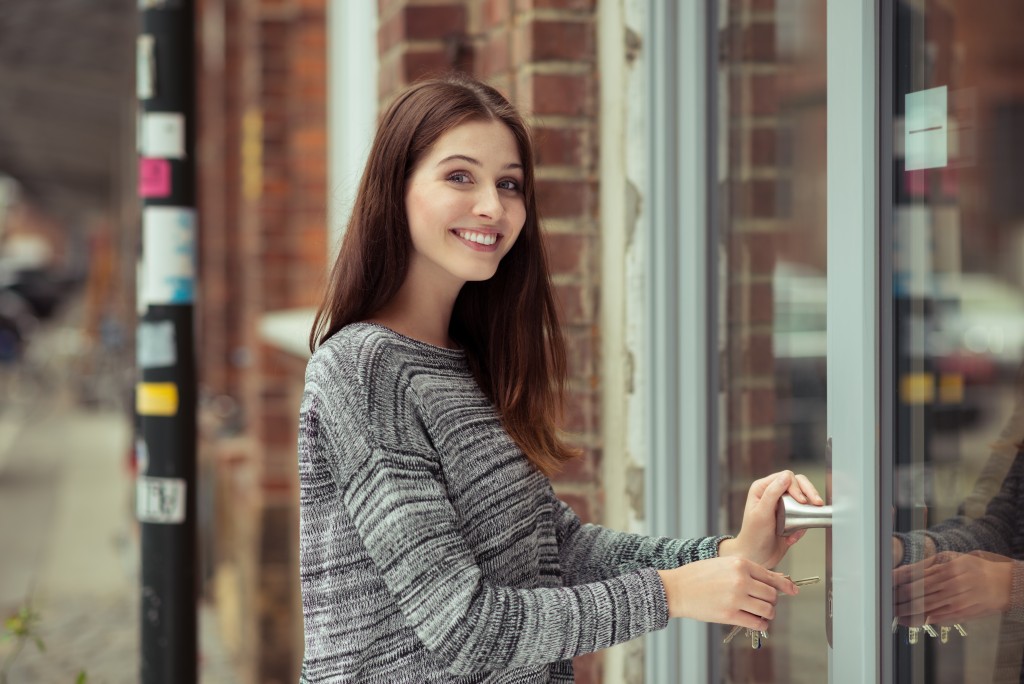 Use the Eye Level Principle
If you want to sell something — a new product or a featured product — put it at eye level. You can do this by attaching a growth chart ruler or something similar to the window. This allows people to look at your storefront window from the farthest to the closest point from the curb on your side of the street. You can identify the eye level by remembering the numbers on the chart ruler and taking the measurement. Once that's set, it will be much easier to build the background design and add levels and layers behind the main spot to create an interesting window display.
Items positioned at eye level are observed to sell better, as they are more visible. On top of that, this setup allows you to decorate the display window without obstructing the view of the products; you'll know which parts you can decorate and leave clear for customers to see what you've got in store for them.
If you have a display window, no matter how tiny it is, make use of it. Remember: eye level is buy level. To keep things interesting, have new display ideas ready so that you can refresh your display from time to time. Don't forget to make it pretty by decorating it, too!
Keep it Bright and Clean
You'll also need to illuminate your storefront. If your business stays open until it gets dark, you will need to install lights to keep the front bright and noticeable. Lighting your front area at night lets customers know that you're still open for the day and encourage them to come to your store.
Likewise, use overhead lights and spotlights to enhance the look of your display window. The right lighting creates a brightening effect that can make your products look their best. It makes colorful items stand out and bring out the disarming charm of items in neutral and muted tones.
Lighting works hand in hand with the cleanliness of the storefront. Make sure your windows are always clean and your display is dust-free. If you have signage upfront, make sure it's secured in place and installed in a safe spot that is visible from the street.
Keep the lawn clean by making sure that the trees, shrubs, and plants are properly trimmed. Provide designated bins for different types of waste product materials as well. Your customers, especially the environment-conscious ones, will surely appreciate this. It makes the entire business, and not just the store, beautiful inside and out.
In summary, maximizing your store's street appeal doesn't have to create a huge dent in your savings. These three ways are the easiest and most effective methods to set up a beautiful storefront without breaking the bank. All of these are feasible and can be done within a short span of time.